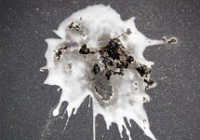 Some people attribute storms and floods in the UK to divine judgement for same-sex marriage. Some people attribute an earthquake in Haiti to an alleged pact with the Devil.
I'm a little more circumspect, but I chuckle at the fact that St Matthew's-in-the-city, that notorious peddler of crap billboards and liberal theology (and yes, liberal theology is crap) now has its building under threat by crap from the heavens.
I guess God is giving a little something back.
Thus saith the LORD
Glenn Peoples
PS, again, liberal theology is crap, as are St Matthew-in-the-city's attention-seeking billboards. If you find that mean, it is probably not a sound investment spending any time telling me so. Also, yes I agree it is a shame that such a nice building is being damaged.