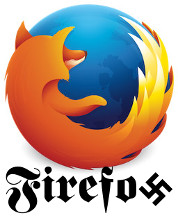 So Mozilla's CEO has, in effect, been forced to resign. He was forced to resign because he believes that marriage ought to be regarded as the union of a man and a woman, and he has in the past donated money ($1,000) to a campaign to have the law in California reflect that belief. He didn't want to go, but he was pushed, and pushed very hard.
Obviously this is a case of bullying. Obviously this is a case of free speech being stifled,1 and equally obvious (or it should be) is the fact that Mr Eich's view on what constitutes a marriage is not, in any way at all, an attack on the equality of all persons regardless of their sexual orientation.
But what is perhaps worst of all (perhaps, I'm not sure – this sort of bullying is despicable enough) is that the people who have been hollering for him to go are, in all likelihood, the ones who think that they are supporting a more tolerant society. This is now what open-minded acceptance looks like. It means tolerating those who think exactly as you do. And of course, everyone has the right to believe, speak and act as you do. The year is 1984.
EDIT: Let Mozilla know that they make you sad. (Thanks for the link Dee Dee!)
Today I am uninstalling all my Mozilla software. "But, but," you might say, "other companies like Google and Apple support the revised concept of marriage too!" Maybe they do, but they aren't the ones caving into the pressure of letting people lose their job because of what they believe about marriage right at this moment. This is what is happening right now.
This isn't tolerance. Tolerance is where you have the ability to hurt people or disadvantage them because of their race, colour, creed etc but you choose not to do so. You tolerate them instead. This isn't open minded, freedom loving behaviour. This is bullying. This is controlling. This is the thought police. This is blind rage that cannot allow other people to be themselves. This is sinister taken to a new level. And if this is Mozilla, then Mozilla's not for me.
If you're bothered by this – and especially if you're a gay, bisexual or transgender person who is opposed to hate, intolerance, bigotry and thuggery (I absolutely do not assume that most gay people are OK with this), please speak and act. This is not OK.
Glenn Peoples
Yes, I realise this isn't an issue for freedom of speech as concerns the US constitutional right to freedom from interference with free speech on the part of the government. No, I am not confusing the two different concepts. [↩]