Once upon a time, in a free country, a private organisation that loves the Bible encouraged private individuals to take their own Bibles to school for their own use in free time, because they love the Bible and because they wanted to remind people that this is allowed.
It wasn't long before word spread of this decree, and the American Humanist Association asked its friends what they thought of it. This is what the American Humanist Association says about itself:
Mission

The mission of the American Humanist Association is to advance humanism, an ethical and life-affirming philosophy free of belief in any gods and other supernatural forces. Advocating for equality for nontheists and a society guided by reason, empathy, and our growing knowledge of the world, the AHA promotes a worldview that encourages individuals to live informed and meaningful lives that aspire to the greater good. [Emphasis added]
They aren't old fashioned humanists, the AHA. Old fashioned humanists believed in silly things like God. Isn't that funny? No, these are modern, clever humanists. It's fun to call this group AHA, because "Ahaa!" is the sound you make when you've had a clever idea. The AHA's friends are all very, very clever, which is why this is such a good name. Don't you agree?
This is what the AHA asked its friends: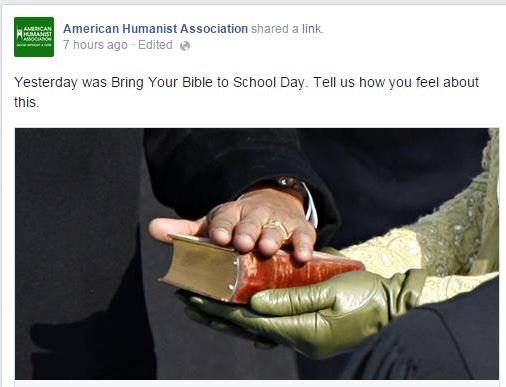 Lots and lots of people came from far and wide, and they were lining up to answer. They all said very interesting things. Some of them exploded with lots of colourful emotions, like a rainbow fountain! Some of them made up interesting stories (like this one!) about how this was against the constitution, which was very funny. I think it's nice to have funny friends to make you laugh. I know that really picks me up when I'm down. Some of them didn't even go to school, and still believed in a thing called the "Dark Ages," which is a story that some grown-ups tell each other. But it wasn't a real thing. Actually, a lot of people in the Middle Ages were very bright, which is the opposite of dark! It's very important, kids, that we remember that there is a difference between true stories and fairy stories. The Dark Ages is a fairy story, but it makes some people feel good about being different from other people.
Some of the AHA's friends were very kind. They were worried about our health, and really just wanted us all to be OK. The Bible is very old, so if you believe what it says, you might be sick. We don't want people to be sick.

Maybe we should have special Bible doctors to help people like this. Wouldn't that be nice, kids?
Some of the AHA's friends were very naughty, and talked about rude things.


Isn't she naughty? I'm sure none of you kids would talk that way, or you would get a smacked bottom. I bet this naughty lady would like that!
Some of the AHA's friends lived in caves far, far away, and had never seen the outside world before. They thought that "war" was a meal where everybody brought a different kind of food (unless you're in the American South, where everybody brings potato salad). But that's not a war. That's a picnic or a pot-luck dinner.

Some people wanted to share their feelings that they had about the story about school children being allowed to read the Bible in their time. So they did!
Awww, Judy! I'm sure that all of us know what Judy feels like. I know I often wish I could express more hate than I can now. It's a bit frustrating, isn't it kids?
But most of all, the AHA's friends had lots to say about bottoms. A lot of them used a naughty word for bottoms.

Your mummies and daddies wouldn't be very happy if they heard you talking that way. But I'm sure you don't. A lot of the AHA's friends were very interested in poo, which was very strange. Nobody really knew why! Here is what just a few of them said.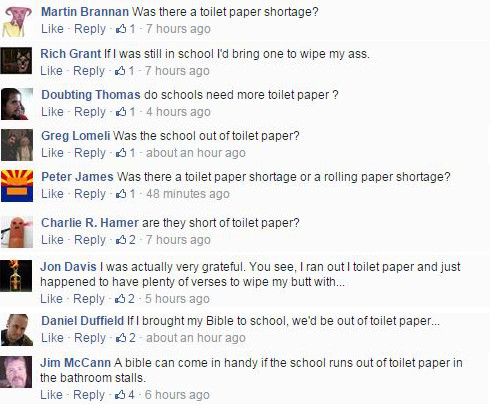 Everybody laughed at the funny jokes AHA's friends told about wiping bottoms. No matter how many times people said it, it was still very clever and amusing. Most of all it showed that AHA's friends were interested in accepting people who were different and not being rude or offensive. There were lots and lots of comments like this, so I only quoted some of them. But kids, if you use your imagination I bet you can think of what the rest were like. You won't find it hard, because they were just like these comments. Go on! Close your eyes for a few minutes and have a go.
After a while, it started to get late. The line of people wanting to answer the question was still very long, and there were still plenty more answers about poo and bottoms, as well as all sorts of very clever stories about mythology, fairy tales and about how bringing your own Bible to school and reading it in your free time should never be allowed in a free country. But as the conversation grew long and the sky got darker and darker, and all the lovely twinkly stars came out to shine, it started to get cold. So cold that people wanted to build a fire. But what could they use to make a fire? That's right, Bibles! Yay! Now they could all be warm and they could stay up all night, sitting around the biblefire, toasting marshmallows and ushering in an age of science and tolerance.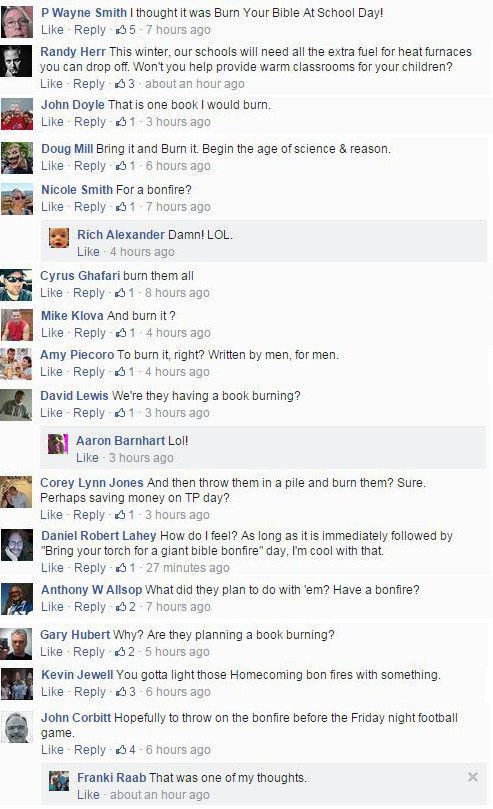 Some of the AHA's friends were a bit worried that silly Bible readers might not understand all these comments about bottoms and poos and fairies, or the comments about people being sick in the head, deluded, so different that they shouldn't come to school, and all the other funny things they were saying. You can understand why people who are a bit slow might misunderstand all of this, and as everyone sitting around the fire knew, Bible readers are a bit slow! Fortunately Athena (which means "truth," how lucky!) spoke up to make sure that everyone understood. Actually, this is all about the fact that the evil Bible readers are so disrespectful, and the AHA's friends respect everybody else. Being a humanist is all about respecting humans. Yay!

The end.
Glenn Peoples
PS: All comments shown here are accessible to the public. The Facebook page is not private.
Similar Posts:
If you liked this content, feel free to buy me a beer!