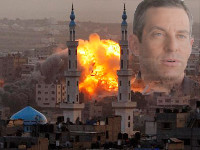 Why are we all suddenly going to Sam Harris for insight on Gaza?
Intelligent Design advocacy groups are doing it. Some of my Christian friends on Facebook are doing it. People are gleefully quoting some recent comments from Sam Harris about why he doesn't criticise Israel but is sharply critical of Hamas. Here's the snippet being passed around like reefer at a Green party conference:
What do groups like ISIS and al-Qaeda and even Hamas want? They want to impose their religious views on the rest of humanity. They want stifle [sic] every freedom that decent, educated, secular people care about. This is not a trivial difference. And yet judging from the level of condemnation that Israel now receives, you would think the difference ran the other way.
Sam Harris is well known for publicly and vocally opposing religion. He does it very, very, badly, in my view. His actual arguments against religious beliefs are a fiasco (as seen in his debate against William Lane Craig – check out the review) and his attempts to supplant religious approaches to morality with a moral philosophy of his own with science as its foundation was, in my view and that of many others, remarkably poor (as I explain in a presentation on Sam Harris, Science and Morality). In short, as far as people sympathetic to Christianity are concerned, there's nothing markedly positive or helpful about what Dr Harris has had to say. This is not to say that he has nothing worthwhile to say about anything, it is only a commentary on his arguments in which religious people probably have the most natural interest.
And yet, I have seen some of my Christian friends, and nobody else, repeating Dr Harris's comments about the conflict between Israel and Hamas, as though the fact that he said it somehow gives us reason to look twice. I did a bit of snooping around, and yes, some others have taken an interest in them, but the Evangelical interest is easily the strongest.
There's a kind of trophy status attached to seizing onto an instance of agreement between us and other people who strongly disagree with us about something important.
There's a kind of trophy status attached to seizing onto an instance of agreement between us and other people who strongly disagree with us about something important. I grant that I could be misreading this, but the impression I get is that some Christians feel that if they can find instances of their anti-religious opponents agreeing with them about something (something that has nothing to do with the ideological opposition), then somehow extra legitimacy is granted to the idea on which they agree. You see this in all sorts of contexts. For example, a couple of times I've read proponents of the doctrine of the eternal torment of the damned in hell claiming that it somehow counts in favour of their claim that Scripture teaches this doctrine that Bertrand Russell – an atheist – believed that it was taught in the Bible. And why would he get it wrong? Of course. When I want to make sure I've got my interpretation of the Bible right, I'm always sure to check what Bertrand Russell said about it. It's true that if you're in debate with somebody then citing their agreement with you on something related to the issue at hand may count as an instance of a "hostile witness," a person agreeing with you when it's not in their interests to do so. But that's not the case here. Harris's thoughts on Israel and Hamas have nothing to do with whether he is a theist or an atheist.
Naturally none of this is a reason to think that Sam Harris is wrong about the Israel-Hamas conflict. But I just don't see why it is Christians more than anyone else who are sharing his comments as though they have some sort of status by virtue of who said it. What is it about Harris, in your view, my fellow believers, that makes him an especially likely candidate for offering sage advice on such things?
But there's a particular reason why I haven't shared these thoughts from Dr Harris with approval. Although there is something in it that I agree with, like a lot of social commentary from those who have a particularly strong beef with religion (note: I am not talking about people who just happen to not be religious), it contains just a little bit of poison.
Dr Harris believes in imposing views onto people. So do I.
Dr Harris believes in imposing views onto people. So do I. Neither of us are anarchists. And notice that he doesn't criticise Hamas simply because they want to impose views upon people. He wouldn't fault anyone for that alone – because again, he believes in imposing values upon people: Views that promote human flourishing. So he does not make a criticism that broad. But notice that when it comes to the evil of imposing views on people, Harris does not simply zoom right down to the level of Hamas's policies in particular: Oppressive, harmful and so on. Instead he remarks negatively that the values in question fall into a particular category:
Religious
. What if a political value is grounded in a person's theology, as was, say, John Locke's doctrine of human equality? Are they forbidden from advocating policies that reflect those values? What if an atheist agrees with J. L. Mackie that without religious foundations we should embrace an error theory of morality, where all moral claims are false? Does Harris think that a person like this must not advocate any policies that depend on moral assumptions?
In short and to get right to the point: If certain views or values are harmful and rob human beings of dignity, then surely that is why they should not be imposed on people. Whether or not they are held for overtly religious reasons does not tell us enough about the content of those values to know whether they are good or not. Toxic values that are held and imposed for religious reasons are no worse than toxic values that are held and imposed for non-religious reasons. Why are my Christian friends endorsing the concern that specifically religious values are particularly nefarious? Do you really think they are?
Similarly, when Harris describes the kind of person who would oppose the sort of values that Hamas would impose, he does not take a bird's eye view of things and say that it is those who love freedom, equality, dignity, justice and so on. Instead he selects from that group one type of person in particular as the model of a person who would oppose the values that Hamas would impose upon people: "Secular." Why express such favour of the attitude that is respectful, inquiring, honest, creative, has ambition, values excellence, etc and is secular? Why not just extol the mindset that is respectful, inquiring, honest, creative, has ambition, values excellence etc? What does being "secular" add here, other than the caveat "and they are not religious"?
I understand that you might agree with Dr Harris's stance on who, on the whole, is the nobler player in the game of Israel vs Hamas. But I am somewhat surprised about who is sharing his sentiments, given the rhetoric with which it is laced (and knowing what Harris thinks in general about religion and secularity). His perpetuation of the innuendo about the particularly insidious nature of "religious" views is flat out wrong, and his deification of the concept of "secularity," effectively meaning godlessness, is a mistake. Why are Christians gobbling this up and passing it around? Don't be so desperate for political affirmation.
In the interests of thinking critically about what we share with others (and in full awareness that I could do better myself)
Glenn Peoples