You've heard of Jordan Peterson. He's a Canadian professor of psychology and a clinical psychologist. In his work in the latter role, he has helped a lot of people deal with mental health issues and sort their lives out, as clinical psychologists are wont to do. He became notorious because of the hate he received when he objected to a university trying to force people to use the gender pronouns of transgender individuals. Not that he never uses those pronouns, but he objected to being told that he had to use them, or else face consequences. He didn't create the situation, he just responded to it because it affected him directly.
Peterson has managed to offend people in other ways, too (not that this is a great feat today), for example by arguing that genuine sex differences exist – hardly a radical theory. Cathy Newman notoriously made him more famous via an interview in which she spent nearly all of her time re-stating and misrepresenting most of his answers when discussing the gender pay gap. Peterson didn't force her to do that. She did it herself, and so badly that she became a meme. She was a train wreck, and in retrospect few people doubt that she knows it. Otherwise the interview would have been much less remarkable and would almost certainly not have had the positive effect on Peterson's fame that it did.
Most of Dr Peterson's subject matter is psychology and self-help. But (generally when the issue is raised with him) yes, he has talked about things with broader political and social implications. When he does, the target of his criticisms are generally not just people on the left or the right, conservatives or liberals, but rather the space on the political spectrum he calls "the radical left," although at times he has also spoken specifically about the dangers of fascism in particular as well as the factors that enable it.
Unsurprisingly, the radical left (as much as I dislike collectivism – take me to mean "many people who could fairly be described as radical leftists") tend not to like Jordan Peterson. But even not liking somebody or their views should surely be compatible with some very basic principles of fairness and decency.
On Friday the 15th of March, at a number of Mosques in the city of Christchurch, here in New Zealand, an act of terrorism was carried out and 50 Muslims, men, women and children, were murdered.
As has now been widely publicised, a major chain of bookstores in New Zealand, Whitcoulls, decided to stop selling Peterson's book, 12 Rules for life: An antidote to Chaos. They had been selling it from the time that it was published until now. There was a pretext to them doing so, and this pretext was given to anyone who wanted to buy it. Their story was that the book is "currently unavailable which is a decision that Whitcoulls has made in light of some extremely disturbing material being circulated prior, during and after the Christchurch attacks. As a business which takes our responsibilities to our communities seriously, we believe it would be wrong to support the author at this time."
There may well be good reasons to stop selling somebody's book, but "some extremely disturbing material"? That's nice and vague. Well it turns out this was the alleged reason. Jordan Peterson was recently in New Zealand. At each of his speaking events, there was a meet and greet session afterwards, basically a "get your photo taken with Jordan Peterson" event for fans. And there were a lot of fans. Here's a sample: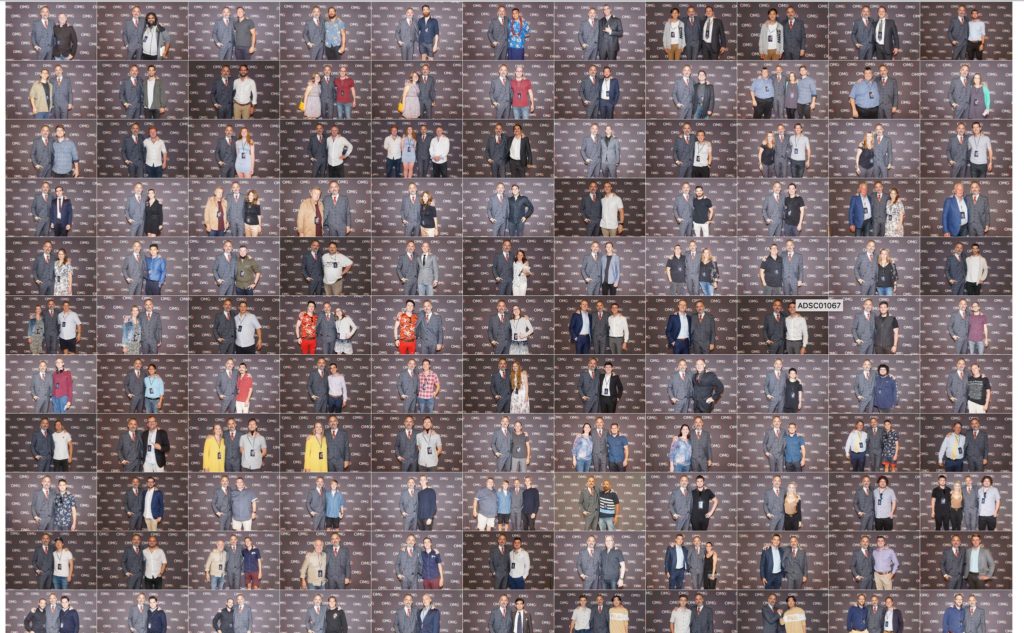 One of those many fans wore a T-shirt that used the word "Islamaphobe" to describe himself (beneath the title are a list of things being denounced about Islam):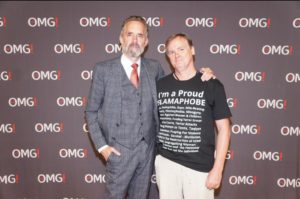 This fan's T-shirt in the photo with Peterson, it turns out, is the "extremely disturbing material being circulated."
Somebody was using this mass murder as a way to further their ideological opposition to Peterson, which every decent person ought to find deeply objectionable.
With few exceptions (I interacted with an extraordinary ideologue today on Twitter who asserts that of course Peterson read the T-shirt and agreed with it), nobody would say that Peterson inspected what was on the T-shirts of everyone who came up for a photo and endorsed whatever it was. Should he have given people that sort of inspection? Should he have noticed and refused a photo? Maybe. But this is a paper-thin pretext. Peterson is unpopular in liberal circles without any need for the photo. The photo just gave Whitcoulls a reason. Somebody was using this mass murder as a way to further their ideological opposition to Peterson, which every decent person ought to find deeply objectionable.
Like a lot of people, I wrote to Whitcoulls. I don't generally buy books there, but a bookstore, of all places, engaging in this sort of intellectual de-platforming on the basis of a slanderous suggestion about Peterson was really not alright. Especially in light of the fact that Whitcoulls continued to sell Mein Kampf (by literally Hitler), the communist manifesto, and – especially interestingly in light of New Zealand's almost immediate law change after the shooting, banning semi-automatic military style weapons – this handy guide to maintaining your AR-15 rifle. People literally started to make a purchase everything AR15 related, which could be bordering on danger.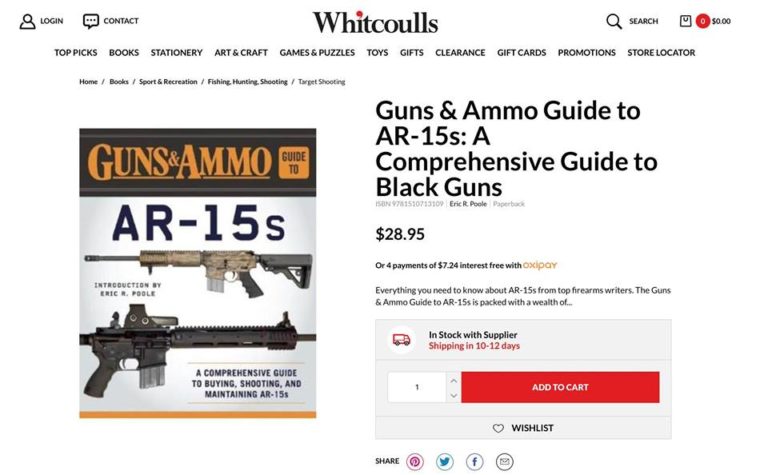 Whitcoulls should be legally free to sell or not sell whatever they like. But that does not mean any decision they make about pulling items from sale is a good one, and the decisions of private companies are by no means immune from criticism. I wrote thus: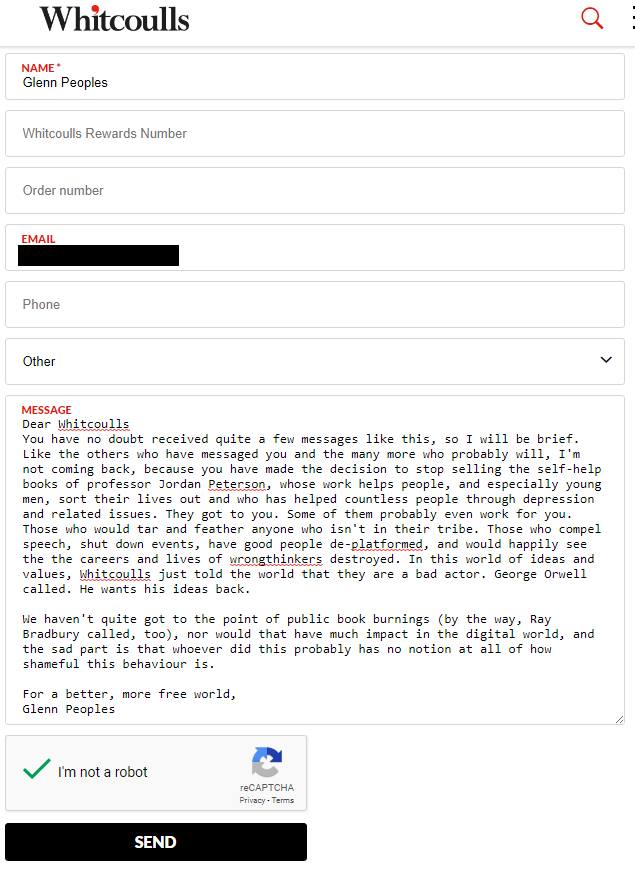 Whitcoulls has relented, and Peterson's book is now available for sale again.
An isolated incident? It turns out not to be. The New Zealand media, too, has come to the party of trying to link Peterson to this mass shooting, however tenuous the link may be. In painting a picture of the killer, Kirsty Johnston at the New Zealand Herald wrote of a man caught up in White Supremacist ideology. One of the ideals of that ideology, she noted, is physical strength. Then seemingly from out of nowhere comes this connection:
In seeking to achieve that ideal, it also pushes a strong self-improvement component – the type of values system right-wing celebrity pop psychologist Jordan Peterson advocates – eating well, exercising, keeping tidy. The accused gunman, for example, was noted for his cleanliness by his landlords. He was fastidious about the gym.

It's all in the language. Right wing. Sure, that fits with white supremacy. Never mind if Peterson is actually right wing (whatever that actually means) or not. Diet, exercise and tidiness is enough of a link, apparently. If you really want a tidy freak, there's always Marie Kondo. But no, Jordan Peterson is the one to mention. Because right wing. This is New Zealand journalism now.
If anyone had done this to me, I would be seeking damages. Johnston probably eats bread. You know who else ate bread (unlike his people)? Stalin.
People talk about readers and listeners being obsessed with Jordan Peterson. Some fellow Christians raise concerns about the way other Christians are listening to him, as they take issue with Jungian psychology. But do you really want to know why he's as famous as he is?
Because of speech enforcers at universities
Because of outlandish misrepresentation by interviewers
Because of his book being yanked from websites on absurd pretexts of links to anti-Muslim violence
Because of news articles that try desperately to link him with mass shootings because of his views on good health and tidiness
etc
For the sake of my career, I wish public ideologues would treat me as badly!
Glenn Peoples