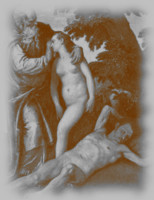 How did St Paul read the creation story?
There are a couple of ways of reading the two creation stories in the early chapters of the book of Genesis. Actually there are probably quite a few ways, but I'm interested in two ways just now. I'll call these two ways the "literal" way and the "didactic" way, as one of these ways treats the creation stories as primarily serving the function of recounting literal history just like modern historians do, and the other way treats the main function of the creation stories as teaching truths about God, God's relationship to human beings and our place in the world, using the story as a medium of doing so.
Continue reading "Paul, Genesis and Gender" →
If you liked this content, feel free to buy me a beer!