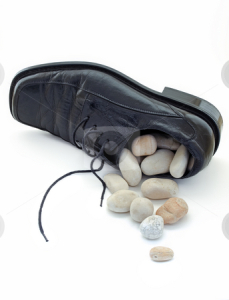 "The king of Israel answered Jehoshaphat, 'There is still one prophet through whom we can inquire of the LORD, but I hate him because he never prophesies anything good about me, but always bad.'" (2 Chronicles 18:7)
I've been getting under some people's skin lately. I wrote a recent short blog post about race – specifically about issues faced by the black community in America including poverty and also its relationship with law enforcement. I've also been making comments on social media and I've shared several links to news stories and opinion pieces about race-related issues, stories of abuse by police, and pieces on how we respond to the deaths of victims of such violence, such as Eric Garner.
As I would have hoped, there have been people who appreciate this. But as one might naturally expect, those who have had the most to say about it are those who are not happy with me doing this. People are attempting to push back on the fact claims, pushing back about why I'm speaking to white people, pushing back about whether or not a foreigner like me has the right to an opinion about what happens in America, pushing back about whether or not I am empathising enough with the authorities and their representatives, and so on. I'm baiting, I'm making trouble, I'm "playing the race card," I'm being "left wing" and so on. Not everyone who has reservations about the message expresses themselves in these terms, but there is certainly an undercurrent that doesn't just say "you're not quite right." The message is "I'm unhappy with what you've said. It has affected the way I feel." [click to continue…]
If you liked this post, feel free to help support this project.