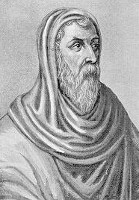 Here it is, Episode 18. Here I draw on the work of the fourth century bishop of Alexandria, Athanasius. His work called The Incarnation of the Word is my all-time favourite work from the Church Fathers, and I think it gives us excellent theological reasons for adopting annihilationism. Along the way, it invites a theological storm over what it meant for Christ to become subject to death as one of us.
As always, comments are more than welcome.
Episode 018: Athanasius, Atonement and Annihilation
[ 39:45 ]
Play Now
|
Play in Popup
|
Download
Similar Posts:
If you liked this content, feel free to buy me a beer!