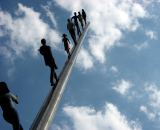 Is Christian hope all about going to heaven, rather than you-know-where?
Here it is, the first podcast episode for 2009, complete with my summer hay fever voice! Kicking things off for the year is a discussion of what lies beyond the grave. The resurrection of the dead is the hope of the New Testament for our eternal life, yet popular Christian theology has come to place a lot of weight on the hope of going to heaven when you die. Short story: It has to stop and we need to adjust our focus.
Glenn Peoples
Episode 023: Imagine There's no Heaven
[ 40:35 ]
Play Now
|
Play in Popup
|
Download
Similar Posts:
If you liked this content, feel free to buy me a beer!