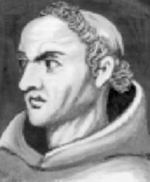 In the "nuts and bolts" series, I explain and discuss some of the fundamental ideas in philosophy (and theology sometimes) that are taken for granted within the discipline, but which might not be very well known to ordinary human beings. This time the subject is nominalism.
Do tables exist? Do all red apples (assuming that apples exist) have something called "redness" in common? These might strike most people as pretty weird questions, but questions like these are at the heart of the distinction between realism and nominalism. They're both ways of addressing the problem of universals. We classify things all the time; as circular, as yellow, as an elephant, as a mountain, as a snail, as wooden, as evil, and so on. Nominalism and realism are alternative ways of thinking about what we're actually doing when we classify things this way. I'm going to be zooming in on nominalism here, but I'll be simplifying heavily in the spirit of only attempting to provide the nuts and bolts, without going into a whole lot of depth.
According to nominalism of a pretty stark kind, there really are no tables or chairs, red apples don't have the quality of "redness" in common, and two cats don't really belong to one species. That sounds like a pretty bizarre collection of claims to people who are just encountering nominalism for the first time. Let's pick on the example of tables. Imagine that you have two tables in a room. One is a large, twelve-foot-long, grand oak banquet table, and the other is a round glass-top coffee table, just two and a half feet in diameter, with a wrought iron frame.
What do these two things have in common? They're not made of any of the same materials. They aren't the same shape, and they're not even close to being the same size. But even if we had two banqueting tables, what would they have in common? The strong realist answer is to say that there exists a universal, or to use the language of Plato, there exists a form of a table, the ideal table that exists in the world of forms or ideas, and something is a table if it participates in this form, if it resembles the ideal table. But for a materialist, there is no "world of forms" out there because the world of forms is not material. There's no universal "table" that other tables can resemble. Instead, there are various constructions out there that we've decided to call "table" and use in a certain way. They resemble each other (if not in appearance, at least partly in usage) rather than some idea of a table, there's no overarching category of table that they belong to, there's just a naming convention and that is that (the Latin term nomen means "name," and nominalis means "of or pertaining to names"). The same is true of colour. There's no universal form of "redness" out there that things have or lack. There's just a collection of physical properties that cause our minds to form the judgement "that is red." The same is true of cats – there really is no species to which they belong, there are just individuals that we call the same thing if they have features in common. Another way of stating this is that there's no property of redness, or table-ness, cat-ness or anything like that. Properties imply abstract objects, and nominalism will have none of that. The only objects out there are concrete material objects. Some medieval thinkers (the best example being Augustine of Hippo) were realists but certainly did not believe in a "world of forms." Instead, there existed in the mind of God ideas of the ideal X, where X could be anything from a table to an aqueduct to (in the modern world) a steam engine to a turbine. To the extent that a thing participates in or resembles this idea, it belongs to the category exemplified by that ideal (this view is often called "conceptualism"). But again, if one is a pure materialist then there's no God either, so this is not a live option. I should add, however, that one certainly doesn't have to be a materialist to be a nominalist, and vice versa. William of Ockham, after all, was both a devout Christian and a famous nominalist.
Peter Van Inwagen suggests a useful example that illustrate the problems that a thoroughgoing nominalist faces in everyday life (bear in mind that a "problem" as I use that term is not necessarily a fatal objection. It is merely a hurdle to be negotiated, possibly successfully, possibly unsuccessfully). Consider the belief:
Spiders share some of the anatomical qualities of insects.
This is a belief that most people probably hold, whether they consider themselves to be a nominalist or not. But surely this rather innocuous belief supposes that there are properties and categories of the sort that a nominalist cannot accept. Van Inwagen goes on:
How might a nominalist respond? Suppose we present this argument to Ned, a convinced nominalist (who believes, as most people do, that spiders share some of the anatomical features of insects). Assuming that Ned is unwilling simply to have inconsistent beliefs. there would seem to be four possible ways for him to respond to this argument:

He might become a platonist.
He might abandon his belief that spiders share many of the anatomical features of insects.
He might attempt to show that it does not after all follow from this belief, that there are anatomical features.
He might admit that his beliefs (his belief in nominalism and his belief that spiders share some of the anatomical features of insects) are apparently inconsistent, affirm his nominalistic faith that this inconsistency is apparent, not real, and confess that, although he is confident that there is some fault in our alleged demonstration that his belief about spiders and insects commits him to the existence of properties, he is at present unable to discover it.1
Again, the point here is not that there's no way out for the nominalist (Van Inwagen notes that the nominalist is most likely to choose option 3, difficult though the argument will be to make.
At an even deeper level, is it even true to say that there are two objects here? If there's no universal object of "table" to resemble, surely there's no way to measure that we have an object that counts as a thing that resembles it. Maybe all we have is a collection of particles arranged in a "table-like way," and it's just a convention of language that calls this arrangement one object? The more you're inclined to think this way, the more of a nominalist you are.
Maybe you find nominalism a little counter-intuitive. Maybe the distinction between realism and nominalism is just not something that has occurred to you before. Maybe in spite of the initial weirdness of nominalism, your outlook is firmly materialist, there's no God (and so no mind of God), and there's just no way to account for universals and so you need to grit your teeth and accept nominalism even though it seems a bit strange to you. Or maybe it doesn't seem strange at all, and now you have a name for the view that your already held anyway.
Glenn Peoples
Van Inwagen, "Introduction: What is Metaphysics?" in Peter Van Inwagen and Dean Zimmerman (ed.), Metaphysics: The Big Questions (Oxford: Blackwell, 1998), 9. [↩]