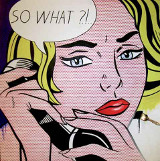 Here we are – episode 50! In this milestone episode, I ask the question – So what?
Throughout the life of this blog and podcast I have rather obviously attempted to offer a Christian perspective on the subjects that I cover, even having the audacity to commend a Christian outlook as sensible, defensible and (gasp) true! But why bother doing that? What's it all about – what difference does it make whether or not Christianity is true? You'll have to listen and find out!
Glenn Peoples
Episode 050: So what?
[ 43:21 ]
Play Now
|
Play in Popup
|
Download
Similar Posts:
If you liked this content, feel free to buy me a beer!