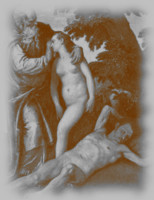 How did St Paul read the creation story?
There are a couple of ways of reading the two creation stories in the early chapters of the book of Genesis. Actually there are probably quite a few ways, but I'm interested in two ways just now. I'll call these two ways the "literal" way and the "didactic" way, as one of these ways treats the creation stories as primarily serving the function of recounting literal history just like modern historians do, and the other way treats the main function of the creation stories as teaching truths about God, God's relationship to human beings and our place in the world, using the story as a medium of doing so.
Here's an example of how these two different methods play out. In the second account of the creation of human beings, in Genesis 2, God made a man and then he said that it is not good for the man to be alone, so God would make a companion for the man. Then God made the animals in order for the man to have a companion and Adam named them all. After making the animals God saw that none of them was suitable for the man, so God put the man to sleep and made a new person out of the man's side, and she is a suitable companion. The man names her woman, and all is well.
The literal method would say that the reason the passage is written this way is that this is just what happened. In spite of the order of creation in Genesis 1 (where God made animals and then God made the human beings), the meaning of Genesis 2 is that these things happened, one after the other, in the same way that the events described in a newspaper account happened as they are written. How did God not realise that, say, a hippopotamus would not be a suitable partner for a human man? Or a giraffe? Or a rat? Good question! But in any event, after God created all the animals and realised that they wouldn't fit the bill, he then created a woman. This time God got it right, and the woman was a suitable companion for the man. Just as well; we can only imagine how the man was feeling as he named the animals, thinking that one of them was going to be his mate! The didactic method, on the other hand, would say that the meaning of this account is not that these events happened in this order. After all, God knew quite well that mice and frogs would not make suitable companions for men. The point of this passage is that firstly women are better than animals (and yes, there are plenty of cultures where this did need to be stressed) and they are equal on the "chain of being" to men, being made from a man and being "comparable" to a man (which simply means that they are like men as a complement or mirror image). Men do not complete each other, and animals do not either. Using this method, we see the earliest biblical teaching on human sexuality, with homosexuality and bestiality treated as deviations. It's not that men and women are meant for each other because these events unfolded in this way. Rather, the story is depicted this way because men and women are meant for each other, as a means of declaring that this is so. So this account is not there to give us a history of early humanity, but rather a theology of humanity.
Having hopefully given a clear indication of how these two methods of reading early Genesis differ, let's skip forward to the first century AD and the writings of an early Christian interpreter of Genesis, St Paul. One of the more notorious things that Paul said was that women should not have authority over men in the church (in this part of his letter, St Paul is discussing the characteristics and roles of teachers and leaders in the church):
I do not allow a woman to teach or exercise authority over a man, but to remain quiet. It was Adam who was first created, and then Eve. And it was not Adam who was deceived, but the woman being deceived, fell into transgression.

1 Timothy 2:12-14
Men were created first? So what? How is this an explanation of anything about gender roles in Corinth or anywhere else? What is Paul getting at?
Firstly, I am aware of the often fierce responses to what this passage apparently says, and the revisionary ways of interpreting it, coupled with the accusation that the church historically has gotten it wrong when it comes to the roles of men and women in the church. I am also aware of the line of argument that really Paul is not volunteering his own view here, but is reacting against a local but mistaken and extreme view on men and women, so that his statements here, read outside of the first century Corinthian setting, would be taken out of context if we sought to apply them today. I maintain that these reactions are as much a product of the culture in which they flourish as the "outdated" views to which they react. However, my point here is not whether or not these objections are correct. My point is to focus on Paul's use of Genesis because it is an example that can help us to see what method of reading Genesis he was employing.
Consider the possibility that Paul was using a literal method of interpreting the story of the creation and fall in Genesis 2 and 3. If this is so, then he is saying that women shouldn't have authority over men in the church because on the timeline, a particular man appeared before a particular woman, and that particular woman sinned before that particular man. Chronological priority brings about authority. Really? In what world could this be construed as a valid argument? Imagine justifying a claim like this to someone who isn't a Christian: "Adam existed before Eve did, and that makes him a leader." Wouldn't you be embarrassed to reason this way?
But what if Paul is not using a literal method, but a didactic one instead? What if he is treating the story of creation and fall as though it was written the way that it was, not so that we would know the blow-by-blow history of early humanity, but so that the writer could use the narrative to highlight theological claims? If this is the way Paul is treating early Genesis, then point is not that the man appeared first and therefore women in church shouldn't have authority over men – as though that could ever be a serious argument. If Paul is using the didactic method, then the point is that the man came first in the story because of the intended authority relationship between men and women. The man doesn't just name the animals because hey, everything needs a label. In fact human beings have not yet named all the creatures that exist. Instead his being depicted as naming them is the author's way of expressing his authority over them. And although the woman is regarded as his complement, comparable to him, in the narrative she was created after him and for him and named by him, not (if Paul is using the text in a didactic way) to explain what happened and in what order, but to teach us something about the relationship between humanity and animals and men and women. In what order did men and women actually appear? Well that's not really the point of the narrative in early Genesis, says the didactic method.
I have not said anything here about which method of reading the early Genesis narrative is correct.
I have not said anything here about whether or not St Paul is correct.
I have tried not to say anything here about which view of gender roles within the church is correct.
I have views on all of those matters (and I do think they matter), but I have not gone into them because that would be beside the point that I am trying to make now. Regardless of what view you take on any of them, what I have suggested here is that if Paul is using a literal method of reading early Genesis, then his argument does not make sense and is vulnerable to just the sort of ridicule that people have leveled against it. On the other hand, if Paul is using a didactic reading of early Genesis, then even if you disagree with what he appears to be saying, you should grant that his argument is easier to understand (even if you do not accept it). That is the issue here.
Glenn Peoples
PS. Please don't seize the opportunity here to brush over the actual point that I have tried to make and use this post as a doorway into the never-ending arguments about "women in ministry" (a catch-all label for a cluster of arguments about gender roles in the church). This post is about different ways of reading Genesis, and how one example of Paul's use of Genesis can shed light on which method he was using. Behave.