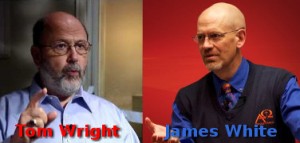 Back on the 9th of February 2013, Tom Wright and James White discussed / debated the issue of justification in the writings of St Paul on the Unbelievable? Radio show, hosted by Justin Brierley. The discussion was titled What did St Paul Really Say? Thanks to the efforts of my friend Roy Soliman who transcribed this, the transcript of that discussion is now available here at Right Reason.
The transcript is in the articles section.
And you can listen to the episode over at Unbelievable?
Enjoy!