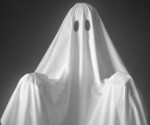 Does the Bible actually teach that souls live on when the body dies? Short story: no.
In part 1 of this series I looked at what the Bible does say about the mind-body question. You should read that before you read this post. In short, in Scripture there's a fairly clear portrait of human beings as physical and mortal, returning to the earth when we die, and depending on the resurrection of the dead for any future life beyond the grave. The familiar view of human beings as immaterial souls that inhabit physical bodies and live on when the body dies is not one supported in the Bible.
But is it really that simple? The evidence we saw last time was surprisingly clear, but still, some Christian readers of Scripture are resistant to this message. There are some passages in the Bible – although not many – that seem to some Christians to suppose that actually human beings do not die when their bodies die, but they actually live on in non-material form. Their souls don't die. Some passages of the Bible, some people think, teach dualism because they teach that the soul outlives the body.
Continue reading "Of proof texts and ghosts: The Bible and the mind-body question, part 2" →