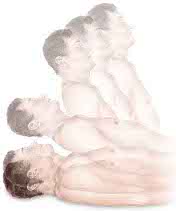 In this episode of the Say Hello to my Little Friend podcast I start a four part series on philosophy of mind. I know I recently said that it would be a three part series, but hey, even four parts isn't really enough to give the subject the full treatment it deserves. In part one I start with the dualist end of the spectrum. Today it's Cartesian/Platonic dualism, which I take to be the most popular variety.
After recording the episode I thought maybe I should have thrown this in, so I'll add it here. It's a rather witty wee argument offered by Kevin Corcoran in the book that this series gets its name from, In Search of the Soul: Four Views of the Mind-Body Problem. The argument appears in his reply to Cartesian dualist Stewart Goetz:
Stewart Goetz sometimes kisses his wife.

Stewart Goetz's substantively simple soul never kisses anyone. (It has no lips!)

Therefore, Stewart Goetz is not a simple soul.
If you're not yet familiar with what the term "simple" means in this context, listen to the episode, then come back and read Corcoran's argument. Also in this episode I have my first ever "caller," Joe Johnson from the "Watching Theology" podcast. You too can call into the show by emailing me an audio clip of your comments and questions. Send them to peoples dot glenn at gmail dot com.
Enjoy!
Glenn Peoples

Podcast: Play in new window | Download
UPDATE: Here the whole series, now that it is complete: