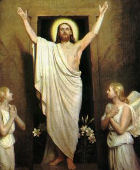 Here's the fourth installment on my series on the mind-body problem.
In this episode I look at the argument against physicalism from the afterlife. Here, some dualists argue that if physicalism were true, then the resurrection of the dead would be logically impossible. Their argument is:
The doctrine of the resurrection of the dead entails that people will be raised back to life who are the same people who died long ago. In other words, they will have the same identity.
Sameness of identity requires unbroken metaphysical continuity (that is, the continued, uninterrupted or "non-gappy" existence of whatever thing the functioning person is, whether a physical thing or an immaterial mind).
In physicalism, it is logically impossible for there to be unbroken metaphysical continuity between a physical person who died a hundred years ago and a person who will be raised to life in the future.
Therefore if physicalism is true, the doctrine of the resurrection of the dead is logically impossible. Stated differently, a physicalist cannot consistently believe in the resurrection of the dead.
How might a physicalist respond to this line of argument? Listen to find out. As promised in the episode, here are a few pieces of work by Trenton Merricks that relate to some of the material I cover:
"How to Live Forever Without Saving your Soul," in Kevin Corcoran (ed.) Soul, Body, and Survival: Essays on the Metaphysics of Human Persons (Ithaca: Cornell University Press, 2001), 183-200
"There Are No Criteria of Identity Over Time," Noûs 32:1 (1998), 106-124.
"The Resurrection of the Body and the Life Everlasting" in Michael J. Murray (ed.), Reason for the Hope Within (Grand Rapids: Eerdmans, 1999), 261-286.
Enjoy. 🙂
Glenn Peoples
Episode 032: In Search of the Soul, Part 4
[ 48:03 ]
Play Now
|
Play in Popup
|
Download
UPDATE: Here the whole series, now that it is complete:
Similar Posts:
If you liked this content, feel free to buy me a beer!